Lips Unsealed
A Memoir, Belinda Carlisle, Crown.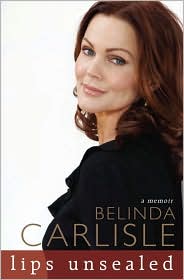 The women of the iconic eighties band the Go-Go's will always be remembered as they appeared on the back of their debut record: sunny, smiling, each soaking in her own private bubble bath with chocolates and champagne. So begins the jacket copy for "Lips Unsealed," the memoir of Belinda Carlisle, lead singer (and most recognizable member) of that all-female pop-punk quintet, who herself went on to a wildly successful solo career. But as Carlisle reveals in "Unsealed," life as a Go-Go wasn't always as fun and glamorous as it appeared. Consider the aforementioned bubble bath photo shoot, which was supposed to be pure girly fun, "except the Mr. Bubble in the tub gave all of us an infection," she confesses.

In fact, by the time the Go-Go's became world famous on the strength of hit songs like "Our Lips are Sealed" and "We Got the Beat" (both from debut album Beauty and the Beat), Carlisle was already in the midst of what would be a thirty-year battle with drug and alcohol addiction. Other personal problems emerged too, including struggles with weight and self-esteem. Carlisle matter-of-factly details her own self-destructive behavior, but generally dances around topics like groupies and the goings-on at Go-Go's parties, which would no doubt be of interest to fans, not to mention those curious about an all-girl band's perspective on the rock star experience.
Notably, Carlisle's personal demons didn't prevent her from reaching new creative and commercial heights as a solo artist. Global hits like "Mad About You," "I Get Weak," "Leave a Light On," "Circle in the Sand" and "Heaven is a Place on Earth" made her an adult-pop sensation, but also contributed to the jealousy that compromised her on- and off-again dealings with other members of the Go-Go's (who have reunited on several occasions over the years).
The book ends on an uplifting note, though, as Carlisle explains how she shook off three decades of cocaine-fueled decadence, and experienced a rebirth of sorts — as a wife, mother, and sober artist. Despite her past struggles, she says she's come to appreciate her career, particularly the impact of the Go-Go's. "I'm proud of the music we made and the doors we opened for other girls with dreams of rocking as hard and successfully as the guys," she writes in the epilogue. "I hope we have inspired other girls who want to play music."