Chasing the Game
America and the Quest for the World Cup, Filip Bondy, Da Capo.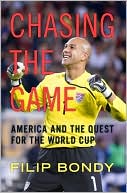 Are we going to win the World Cup in 2010? Of course not, admits Sunil Gulati, president of U.S. Soccer, providing a realistic assessment informed by the American national team's 3-12-3 record in the past five World Cups. But as Filip Bondy illustrates in "Chasing the Game," the U.S. is making halting progress towards becoming a soccer power, and on any given day can compete with — and occasionally defeat — the best teams on the planet. (Witness the U.S. win over Spain in the 2009 Confederations Cup semifinal, as well as the subsequent 3-2 loss to Brazil in the final.)

But the overwhelming majority of America's World Cup history has been characterized by failure, a handful of shocking upsets sprinkled among the long list of disappointing performances. Bondy spends a third of the book chronicling this inglorious history, another third profiling current stars like Landon Donovan and Tim Howard, with the rest devoted to the ten World Cup qualifying matches the U.S. played last year, including the August 12 match against Mexico at Estadio Azteca. Notably, the U.S. squandered a chance to post its first-ever win at Mexico, failing to hold a 1-0 lead (its first-ever lead at the venue), before falling to 0-23-1 in Mexico City. Along the way, Bondy also explains the aspects of the game at which the Americans excel (goaltending, for instance), and where they are still regarded as second-rate.
"Chasing the Game" is best suited to readers interested in getting an overview of American soccer history, as well as those wondering how the U.S. might fare at World Cup 2010 in South Africa this summer. For what its worth, oddsmakers labeled the U.S. an 80-1 shot to win prior to the draw last December, though the Americans settled in a seemingly favorable group that includes England, Slovenia and Algeria. According to Bondy, the formula for American success at the forthcoming World Cup is simple: "Score first. Win first," he implores, taking note of the fact that since 1990 the Americans are 3-0-1 in World Cup matches when they score first, and have always advanced to the Round of 16 after earning a win or draw in their opening match. England awaits, June 12 in Rustenburg.