New York Knicks rehire Isiah Thomas
It's the worst professional sports (re)hire I can remember. Talk about rewarding failure.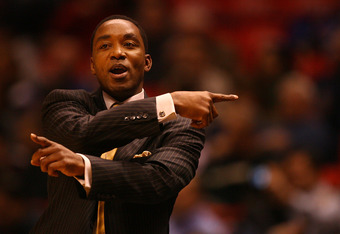 Today the New York Knicks rehired Isiah Thomas (as a consultant), two years after firing him as head coach and team president. Without a doubt, it's the worst professional sports (re)hire I can remember. Talk about rewarding failure.
Thomas had a dismal run as team president from December 2003 to April 2008, with the Knicks never winning a postseason game despite having the NBA's highest payroll. That's just the beginning. If you recall, Thomas was president the year Larry Brown coached a $120 million Knicks club to a 23-59 record. Thomas proceeded to fire Brown just one year into his five-year $51 million contract, and the resulting settlement cost Madison Square Garden $18.5 million. Thomas went on to coach the Knicks himself—for two years—dismissed after a thoroughly awful 23-59 season in 2007-2008.
There's no way around the fact that from a basketball perspective, his tenure was an unmitigated disaster, particularly in regard to free-agent contracts and mismanagement of draft picks. That didn't stop the Knicks from issuing a statement today (from MSG chairman James Dolan and team president Donnie Walsh), which read, "Isiah Thomas brings unique experience as a Hall of Fame player, coach, executive and owner, and we believe having him as part of our organization will be extremely beneficial to the team's success."
Never mind the fact that Thomas also had major problems away from the court during his time in New York. Recall that he was also hit with an embarrassing sexual harassment suit brought against him by former Knicks vice president Anucha Browne Sanders, one which cost Madison Square Garden $11.8 million.
Thomas's agreement with the Knicks allows him to remain on as head coach at Florida International University, where he posted a 7-25 record last season, finishing the year with nine consecutive losses.
What's next? Thomas as general manager?