You Are Good at Things
A Checklist, Andy Selsberg, Perigee.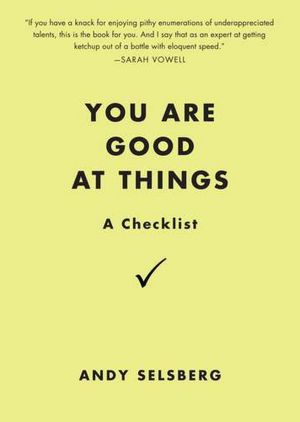 "You Are Good at Things" is a tribute to unsung skills, consisting primarily of a checklist of minor talents that should be celebrated, but usually aren't. Compiled by Andy Selsberg, a former staff writer for The Onion, the book features a list of hundreds of decidedly modest capabilities, beginning with "noticing new haircuts" and ending with "enjoying it while it lasts."
In the introduction the author urges the reader to place a check mark next to all the skills you've got, and to highlight the skills you'd like to acquire. Then "put minus signs next to stuff you wish you weren't so skilled at, like beating yourself up," he writes.
Many of the talents are ones you'd be better off without, like "catching whatever it is that's going around" and "dwelling on slights." No doubt it's better to be good at things like "remembering people's birthdays and anniversaries" or "remembering who you've already told which stories to," not to mention "giving come-hither looks."
To be sure, a lot of the listed skills might come in handy at the office. There's "noticing how many sheets the stapler can handle," "always having candy," "restarting rolls of tape," "always knowing when postage-stamp-price increases go into effect," and "not hitting 'reply all'"—to name but a few.
There are also those talents that make life just a little bit more manageable, like "picking the fastest lane (or line)," "remembering the umbrella," or even just "comprehending the voice coming over the box at the fast-food drive-thru."
There is even a talent that allows one to recognize when to wrap up a book review: "Knowing when to quit."