Why Government Fails So Often
And How It Can Do Better, Peter H. Schuck, Princeton University Press.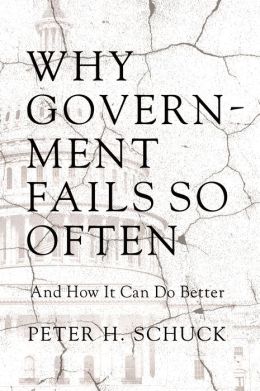 Americans are deeply disappointed with the federal government's performance. In survey after survey, the overwhelming majority of respondents express frustration with federal programs' inability to deliver on their promises. The percentage of people who are satisfied with the federal government is miniscule; a 2010 survey found that only two percent of respondents rated the federal government's job performance as "excellent." Meanwhile, in 2013, Americans' disapproval of Congress was reported at eighty-three percent, an all-time high.
It's tempting to dismiss these results as signs of a bad economy or knee-jerk responses to recent Congressional budgetary standoffs, but as Yale law professor Peter Schuck demonstrates in "Why Government Fails So Often," these attitudes were widespread even before the recession. And the concerns are well-founded: Cost-benefit analysis studies routinely find that federal programs spend too much money and achieve less than they should.
Sometimes government failure can be chalked up to fraud or corruption, and sometimes bureaucratic redundancies are to blame. Then there are failures caused by inflexibility, as when drawn-out procedures prevent the government from responding quickly to changing conditions in the economy.
But too much flexibility is also dangerous; when the government reverses course, people doubt its commitments and refuse to make the investments requested from them. For example, when government stops subsidizing one energy source and offers incentives to develop another, businesses are less likely to invest in the new research because they reasonably predict that this policy will fall out of favor like the last one did.
"Why Government Fails So Often" will be most useful as a reference for people looking to categorize the federal government's failures, or perhaps as a bibliography of academic articles on the government's shortcomings. The book reads rather like a periodic table of government failure at the national level. Each type of failure is defined—and the arrangement likely makes sense to those already familiar with the entries—but there is little illustration. In most chapters, examples are only briefly noted before the exposition proceeds to the next category of dysfunction.
Given the long list of entrenched failures, Schuck is largely pessimistic about the possibility of improving government performance. However, he does propose remedies for federal shortcomings. These include amending the electoral system to give more weight to national (as opposed to local) interests. He also suggests giving the president line-item veto power, which would allow our commander-in-chief to root out wasteful expenses that don't promote the nation's well-being.
Ultimately, "Why Government Fails So Often" provides an exhaustive enumeration of things that can go wrong in the federal government and offers some intriguing—albeit cautious—prescriptions for reform. But for a more in-depth treatment of the relevant policies, readers would do well to skip to the references, head to the library, and delve into the journal articles that this book cites.