Whom Not To Marry
Time-Tested Advice from a Higher Authority, Father Pat Connor, Hyperion.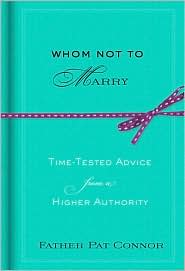 Before you say "I do," you might want to read this book.Its author may be single (Fr. Connor has been a Catholic priest for over 50 years), but after forty-plus years of pre-marriage and marriage counseling, he has accumulated more than his share of wisdom on the subject.

Among his choicest advice: Never marry a man who is cruel to you physically or emotionally; never marry a man who lets you walk all over him; and never marry a man who isn't responsible with cash. As you may have guessed by now, the book is aimed primarily at women, though most of his admonitions might just as easily be applied by men.
Of course, Fr. Connor doesn't always deal in absolutes; he sometimes says: "Usually it's not a good idea to marry a man who...." He also suggests questions that couples ought to answer before they tie the knot, like "Why are we getting married?"
Finally, he implores couples to take things slow, because the courtship phase of a relationship may not be a reliable indicator of long-term compatibility. "I suggest you take a year between the decision to marry and the actual wedding," writes Fr. Connor, who also takes care to dispel the idea that there is only one Mr. Right.
"As you go through life, you will meet numerous men you could be successfully married to," he concludes. "When you have made your choice, rejoice in that, commit to that, and do what you can to make it work."