Welcome to Horneytown
An A to Z Tour Through 201 of the World's Weirdest & Wildest Places, Quentin Parker, Adams Media.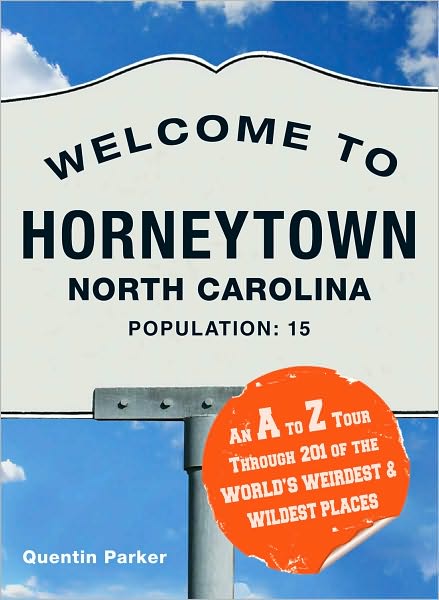 "Welcome to Horneytown North Carolina" is a delightfully juvenile roundup of the worlds most rudely-named places, destinations that are probably more fun to read about than visit. Author Quentin Parker — who claims he was born near Toad Suck (Arkansas), and now lives close to both Horneytown and Climax (North Carolina) —provides the reader with a page of historical background about each of the 201 locales, including a sidebar describing the why, where, and what you need to know about the likes of Whorehouse Meadow (Oregon) and Pee Pee (Ohio).

As one might expect, "Welcome to Horneytown" is good for a laugh, but don't expect it to function as a vacation guide. While Bliss (Idaho) and Happy, Texas (The town without a frown) sound like nice enough places, Normal (Illinois), Boring (Oregon), and the Disappointment Islands (French Polynesia), seem to have little to offer. Of course, they are almost certainly better than Nothing (Arizona), and infinitely better than going to Hell (Michigan).
Related content:
Awkward Family Photos: The Book
Awkward Family Pet Photos
People of WalMart
Cake Wrecks