Vietnam
A View from the Front Lines, Andrew Wiest, Osprey.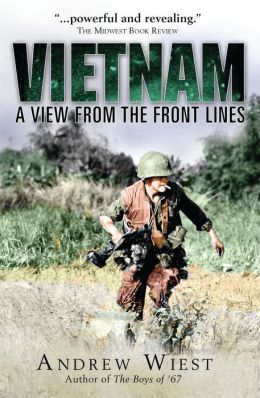 Unlike many books about the Vietnam War, "A View from the Front Lines" doesn't attempt to explain why the United States failed in Vietnam. Instead it aims to give the reader a grunt's-eye view of what happened on the battlefields of that tiny, Third World nation a generation ago.
The book is made up of edited interviews that have been organized by topic. It's an arrangement that allows the reader to "follow the soldiers and their families through the conflict, from before they were drafted, through training, through their first experiences of war, through combat, through hospitals, through funerals, to today," writes author Andrew Wiest in the introduction.
Of particular interest are chapters like "Welcome to Vietnam" and "Life and Death in the Nam," in which veterans recall their first encounters with the enemy. Even more riveting are the firsthand accounts of being wounded in action. For example, Ron Vidovic candidly looks back at the day he lost a leg in August 1967 after stepping on a mine. "I tried to get up and could not get up…. I looked down and saw my one leg was blown off and my other was mushy black," he remembers, before crediting his flak jacket for saving his life.
Last, but certainly not least, Wiest addresses the "generalized, and sensationalized, public image of the Vietnam veteran, an image informed less by reality and more by movie portrayals." In the final chapter, ("Life After Nam"), various veterans discuss returning to civilian life following a war that lacked a cathartic end. Terry McBride sums up the importance of the book best when he says: "If you weren't there you don't know, and if you were there you do. To me it's important to pass it on so other people get it."