Their Last Suppers
Legends of History and Their Final Meals, Andrew Caldwell, Andrews McMeel Publishing.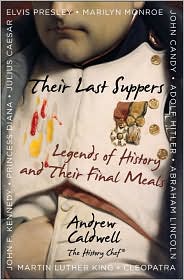 This is one of the strangest and most unsettling books I've encountered in some time — and I don't mean that in a good way. Part historical biography and part cookbook, it describes the circumstances surrounding the deaths of legendary figures like Captain Edward John Smith (RMS Titanic), Captain Ernst Lehmann (The Hindenburg), George Armstrong Custer, and comic John Candy, then goes on to describe each individual's last meal (recipes included!)

As a history book "Their Last Suppers" is totally inadequate. The lives (and deaths) of the twenty personalities featured here have all been carefully chronicled elsewhere, and by comparison it seems as if author Andrew Caldwell (aka the History Chef) is making a mere cursory attempt at recounting their stories. Both the sinking of Titanic and Custer's Last Stand are described in just five pages, for example.
As a cookbook "Their Last Suppers" is downright odd, a culinary tour though history, one that includes handy hints and tips on how to cook last meals like: southern fried chicken, collard greens, and cornbread (Martin Luther King); Dover sole with vegetables tempura (Diana, Princess of Wales); and vegetable soup and mashed potatoes (Adolf Hitler).
Notably, Caldwell has made certain concessions to modernity, in some cases tweaking the recipes to adapt to twenty-first century taste buds and diets. "For the sake of healthful eating, I suggest the use of extra virgin olive oil and for the same reason I have cut down on the salt content of most ancient foods," he writes. After all, you wouldn't want one of these recipes to be your last meal.