The Ultimate Man's Survival Guide
Recovering the Lost Art of Manhood, Frank Miniter, Regnery.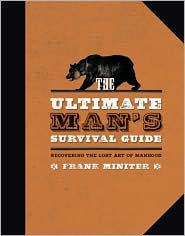 In terms of what it takes to be a man, Frank Miniter has all the answers. At least he thinks so. "The Ultimate Man's Survival Guide" is, ostensibly, an all-encompassing survival guide, but its underlying message is: You have a lot to learn if you're ever going to be a real man, buddy.
Miniter—the executive editor of American Hunter magazine—contends that a so-called "Ultimate Man" is a survivor, provider, athlete, hero, gentleman and philosopher. Knowing this is a lot to live up to, he packs the book with hundreds of tips and how-to illustrations covering everything from: how to survive in the wilderness, to the basics of emergency medicine, to the proper way to conduct oneself in the company of a lady.
Interspersed throughout the instructional materials are what might be described as inspirational passages, including profiles of proven winners like Lou Gehrig, Winston Churchill and Socrates. Finally, Miniter closes with a "continuing education" section (the appendix), which is made up of two very long lists: "100 Movies Men Should See" and "100 Books Men Should Read"—Ben Hur and the Bible being #1 on each, respectively.

Presumably, after a man—even a metrosexual man—absorbs all this information, he will possess the self-confidence, wisdom, humility, bravery, strength and knowledge to qualify as an "Ultimate Man." And all for the low list price of $26.95. So what are you waiting for?