The Titanic Experience
The Legend of the Unsinkable Ship, Beau Riffenburgh, Carlton Books/Sterling Publishing.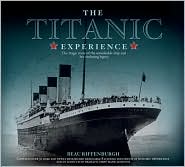 There are countless books dedicated to the story and memory of Titanic, but the 64-page "Titanic Experience" is unique, as it features removable facsimiles of telegrams, letters and memos pertaining to the ship and its maiden voyage, including a section drawing of the giant liner, one that happens to itemize the 17 great shipping disasters that occurred between 1852 and 1911.

But the detail-oriented main text and accompanying sidebars are arguably even more compelling than the included documents. Beginning with the story of the massive ship's conception, construction and launch, Riffenburgh goes on to relate the prophetic stories that now seem to foretell the tragedy, including a mention of Morgan Robertson's 1898 novella "Futility," or, "The Wreck of the Titan." Then in Ice Ahead, The Collision and The Sinking, it's on to the sequence of events that led to Titanic's loss, chapters that will no doubt hold the reader's interest, despite the fact that we all know how the story turns out.
Finally, in the second half of the book Riffenburgh addresses the rescue effort, media coverage, official inquiries and fallout from the sinking, as well as the discovery, exploration and salvage of the wreckage. Last but not least, there are chapters covering Titanic in the movies and the ship's enduring legacy, the latter featuring a picture of the Greek cruise liner Oceanos standing on end before slipping under the waves off the South African coast in August 1991.
While "The Titanic Experience" is aimed at the Titanic enthusiast, it's equally accessible to anyone with a passing interest in the greatest of maritime disasters. Recommended.
Related content:
Titanic Memorial Cruise
The Nazi Titanic