The Ripple Effect
The Fate of Freshwater in the Twenty-First Century, Alex Prudhomme, Scribner.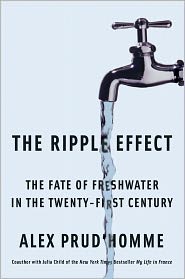 On June 22, 1969, the waters of Ohio's Cuyahoga River caught fire and burned out of control, bringing national attention to the pollution of America's waterways. The subsequent push to clean up the country's drinking water led to the creation of the Environmental Protection Agency, as well as the passage of 1972's Clean Water Act (CWA) and 1974's Safe Drinking Water Act (SDWA). Not surprisingly, water quality improved dramatically in the following decades, and some of the nation's most polluted rivers and lakes were rescued. But as "The Ripple Effect" makes clear, the CWA and SDWA (most recently amended in 1987 and 1996, respectively) are woefully inadequate in the face of current threats to our water supply.
Prud'homme opens the book with a fascinating tour down environmental-disaster lane, focusing on the longstanding, ongoing, and often unseen threats to waterways like Newton Creek (Greenpoint, Brooklyn), the Housatonic River (western Massachusetts), and the Berkeley Pit (Butte, Montana). Of course, it's been decades since the above-named areas became cleanup and Superfund worthy. We're no longer limited to age-old contaminants like sewage, bacteria, oil, and mining waste; communities and regulators are now challenged by cocktails that include the likes of pharmaceuticals, narcotics, and industrial chemicals.
In the second and third sections of the book the author moves on to issues like drought, water scarcity, and impact of climate change, as well as water rights and the business of delivering water to a thirsty populace. In part four, Prud'homme directly addresses the issue of "water in the twenty-first century," illustrating how water issues will be an increasing source of conflict in coming decades (which has led to speculation that wars will soon be fought over water and the displacement of climate refugees).
Of course, the news delivered by Prud'homme isn't all bad. Technology has the potential to mitigate some of the forthcoming challenges. For instance, ambitious sewage-water purification projects like the one in Orange County, California, deliver reclaimed-water clean enough to go "toilet-to-tap," though that distasteful eventuality is still a few years away, even in a water-challenged region like southern California. And the ongoing anti-bottled water campaign seems to be gaining traction, as the public comes to the realization that bottled water is outrageously expensive compared to tap water (though not necessarily cleaner), and imposes additional environmental costs that cannot be discounted.
While "The Ripple Effect" doesn't ask readers to change their behavior, it certainly is thought-provoking. You won't think about freshwater the same way again.
Related content:
Bottled and Sold: Our costly obsession with bottled water