It's Who You 'No'
The Power of No: How to Keep Blowhards and Bozos at Bay, Beth Wareham, Rodale.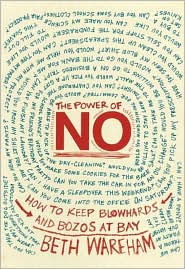 Beth Wareham is on a mission to teach women how to say no. Naturally, this includes saying no to sex, but also 'no' in marriage, 'no' in friendship, 'no' at work, 'no' at home, and 'no' in just about every other aspect of life.
While the author (an editor at Scribner) imparts sound advice, the book's tone is decidedly ugly, as Wareham doesn't hesitate to lambast the men, family members, friends, and acquaintances she uses to illustrate her methods. In her world view, the other party is always at fault, but in many instances it's easy to imagine how the aggrieved woman's tendencies could be the cause of the objectionable behavior.
So if you're a woman who has trouble saying 'no' to people, you might want to give "The Power of No" a look-see. But don't expect an inspirational, uplifting read. "This isn't kid stuff. Be prepared," warns Wareham in the introduction. What else would you expect from a woman who views herself as Mrs. No It All?