The Pirates of Somalia
Inside Their Hidden World, Jay Bahadur, Pantheon Books.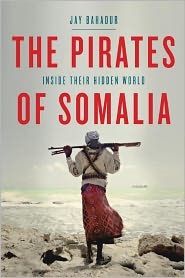 "It is the way to a pirate's heart," says twenty-something journalist Jay Bahadur about khat, the amphetamine-like stimulant that he freely supplied to Somali pirates to get them to open up to him. The fact that the Toronto-based freelance writer was able to make his way into the lives of pirates is a great story in and of itself. After eschewing journalism school and "trying to break into [the business] with the occasional cold pitch to an unresponsive editor," Bahadur settled on a bold, seemingly unrealistic alternate course of action: He ventured to Puntland (an autonomous, largely lawless region in northeastern Somalia) with the intention of writing a book—his <i>first</i> book—about the modern-day pirates who have captured the attention of the world by hijacking multi-million dollar ships. Never mind that he didn't know a soul in the country, which, incidentally, has been ranked No. 1 on Foreign Policy's Failed States Index four years in a row. Never mind that simply getting to Somalia is "an aerophobe's nightmare—a forty-five hour voyage through Frankfurt, Dubai, Dijibouti, Bossaso, and finally Galkayo," the latter flights aboard 1970s Russian propeller planes that made whining sounds he "had not heard outside of decades-old movies." Yet, Bahadur lived to tell, and ultimately achieved his goal.
The result is "The Pirates of Somalia," which examines who the pirates are, how they live, and why piracy took hold in their country, a development that can be traced, in part, to Puntland's failed attempt to start a legitimate Coast Guard. How did Bahadur manage to get close to the pirates? He made contact with a local journalist, whose father was later elected president of the region, a pleasant surprise that not only allowed for access to bureaucrats and politicians, but paved the way for meetings with pirate leaders. (The president's family, it turns out, is from the same sub-clan as many pirates from the coastal town of Eyl [pronounced aisle], which, decades ago, was known for its lobster fishing.) And how did he manage to exist without being harassed or harmed? (He was protected by a pair of AK-47 toting, United Nations-trained bodyguards.) This explains how Bahadur found himself able to provide rare insight into the lives of these men, including what motivates them to hold ships and crewmembers for ransom, and how they spend their time and money (mainly on khat and Toyota Surf's, the vehicle of choice for pirates).
In the epilogue, Bahadur provides a series of sobering recommendations for combatting piracy, which include: financing a well-paid police task force, expanding the Puntland prison system, clamping down on illegal fishing, and requiring passive security measures aboard commercial vessels. Yet judging by his book, piracy won't be dying out anytime soon, not with untold numbers of desperate Somalis ready to risk life and limb for the chance at a small fortune. As to the author's personal experience with khat, Bahadur admits chewing the bitter tasting leaves "six or seven times … simply to fit in." Though wildly popular among Somalis, his assessment of the drug is decidedly unenthusiastic. "It made me sweaty, jittery, [and] sick to my stomach," he says, "and finally, mildly contented."