The Official Movie Plot Generator
Over 27,000 movie plot combinations, Jason and Justin Heimberg, Brothers Heimberg.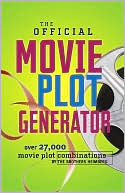 Arnold Schwarzenegger runs for governor of California along with a belligerent ex-child star, a cunning adult magazine publisher, and a dim-witted porn queen. Sound like another improbable Hollywood movie? Well, it's a lot like a plot you might create using "The Official Movie Plot Generator" (Brothers Heimberg), a self-published book by screenwriters Jason and Justin Heimberg that gently pokes fun at the formulaic and frequently absurd story lines of major motion pictures.
The book is "read" by flipping through a trio of flaps that allow the user to mix and match plot lines from any of the 30 pages. Sometimes the results are plausible: "A flamboyantly gay hairdresser …coaches a hapless Little League baseball team …in the feel-good comedy of the year." Others are beyond even the most twisted studio executive: "Adolf Hitler …becomes a pimp …to save the local synagogue," or "America's founding fathers …compete in gritty inner-city street basketball tournaments …to pay off a gambling debt."
Of course, if you want to unearth the plot of the next blockbuster you really don't need this book, just watch the films being released in the Far East. Now that 'sequel' has become a dirty word and virtually every bankable superhero has been exploited, Hollywood has resorted to re-making Asian hits. Perhaps the Brothers Heimberg are already at work on their sequel: "The Official Asian Movie Plot Generator."