The Official Dictionary of Sarcasm
A lexicon for those of us who are better and smarter than the rest, James Napoli, Sterling Innovation.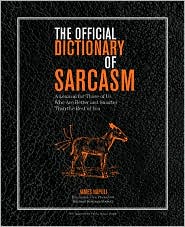 If you're convinced you're better and smarter than everyone else, this book is for you. It's filled with snippets of commentary about a thousand or so seemingly random words and phrases, delivered by James Napoli, executive vice president of the National Sarcasm Society.

For example, bottled water is characterized as tap water made more palatable by a label with a mountain on it. Texting is described as a way of letting people know that actually speaking to them is no longer worth your time. And the word determined is defined as about to fail.
Napoli urges those who appreciate sarcasm to use the book to challenge the tiny minds of the plebeian rabble. But the author would probably be the first to admit that his target audience might not give it a chance, because they just don't give a crap.