The Mad World of Sign Language
Adventures in Unfortunate English from the Readers of The Telegraph, Aurum Press.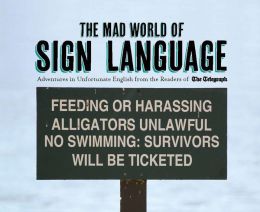 "The Mad World of Sign Language" is the latest in The Telegraph's sign language series—books which showcase "the most confusing, poorly translated, and mind-bogglingly bizarre signs from every corner of the globe." In this fourth volume the editors have divided the pictures—contributed by Telegraph readers—by geographic region.
Not surprisingly, the lion's share of the photos come from the (more frequently traveled) Americas, UK, and Ireland, but the most garbled and mystifying English can be found in China and Southeast Asia, no doubt due to inadequate online translating tools. This explains how restaurant menus in China feature entrées like: "The car hit cheese bacon mushroom face," "Slag peppers fried crisp smell of urine," and "Miscellaneous bacterium clay pot curry." If you're lucky the food isn't "Yu Kee," with a "flavor hard to describe," and more than merely satisfactory, as at the Satisfactory Food Restaurant.
Apparently there are also quite a few shops around the world that are proud to advertise the sale of knockoff merchandise, as with a store in Turkey offering "Genuine Fake Watches," and a place in Egypt which advises customers that "All bags in this Shop are a very Good Replica of Authentic International Brand Names." And Starbucks would be dismayed to learn about the existence of Stars & Bucks Café, which also borrows the coffee company's color scheme.
The book also makes clear that sometimes warning signs are not meant to be heeded, as when they read: "Illegally Parked Cars Will Be Fine," or "Do Not Get On or Off." And sometimes the signs simply warrant a chuckle, as with the photo of Vietnam's Phuc Dat Hotel. The most-likely- to-go-viral photo in the book, however, has to be the billboard for the Galaxy Note tablet (with stylus), which features the tag line: "The penis, mightier than the finger."