The Inconvenient Indian
A Curious Account of Native People in North America, Thomas King, University of Minnesota Press.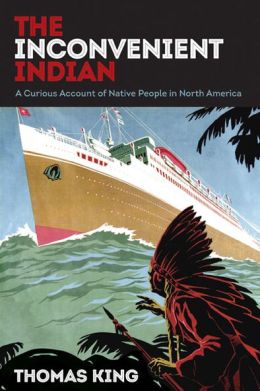 Thomas King's original title for this book was "Pesky Redskins." The "problem was, no one else liked that title," writes the author in the prologue. "Several people I trust told me that 'Pesky Redskins' sounded too flip and, in the end, I had to agree. Native people haven't been so much pesky as we've been … inconvenient."
So begins King—an award-winning novelist, short story writer, scriptwriter, and photographer—who goes on to examine the history of Indian-White relations since first contact. To be sure, the book is "fraught with history," as King puts it, but "the underlying narrative is a series of conversations and arguments that I've been having with myself and others for most of my adult life." That's the author's way of saying that the book is part personal meditation, which allows him to be conversational in tone, not to mention more darkly funny and sarcastic than one would expect from a book of this kind. It also explains, in part, why the "The Inconvenient Indian" (originally published in Canada in November 2012) has been so well-received, named 2013 nonfiction book of the year by the Canadian Booksellers Association.
A few things to know about the author's take on Indian-White relations: He stresses that "there is no great difference between the past and the present. While we have dispensed with guns and bugles, and while North America's sense of its own superiority is better hidden, its disdain muted, twenty-first century attitudes towards Native people are remarkably similar to those of the previous centuries."
King also notes that most of the history of Indians has been forgotten, and what little we remember focuses on the trouble Indians have caused. Take Custer's Last Stand, which has been "told so many times, in so many ways, that his moment on the plains of Montana has become a metaphor for heroic but ill-advised and failed endeavors." Never mind that the Battle of the Little Bighorn was not nearly as significant as countless other conflicts, and that many other appealing stories remain almost completely unknown. Consider Louis Riel and the Rebellion of 1885. "Well known throughout Canada," reminds King, "[but] the event and the man hardly register in America."
Meanwhile, some fictions have been elevated to historical fact, most notably the Almo [Idaho] Massacre of 1861. For the past 75 years, a plaque in Almo has advised passerby that 295 immigrants were massacred there by Indians, which "would rank as the second-largest massacre of Whites by Indians," writes King. Except the massacre never happened.
"What history encourages us to do is to remember the hindrances that Native people posed to the forward momentum of European westward migration, even though Native people were more often an assistance, showing Europeans river systems and trade routes, talking them around the neighborhood and introducing them to family and friends," claims King.
The author spends an inordinate amount of time reviewing the history of Native people and film, "because film, in all its forms, has been the only place where most North Americans have seen Indians." King notes that the only Indians with stars on Hollywood's Walk of Fame are: Will Rogers (Cherokee), who never played an Indian in his fifty-plus films because he didn't <i>look</i> Indian enough; and Jay Silverheels, a Canadian Mohawk who is best-known for playing Tonto in the long-running television series <i>The Lone Ranger</i>. In case you're wondering, Iron Eyes Cody—who played Indian roles (most famously "the crying Indian" in the Keep America Beautiful campaign of the 1970s)—got hired because he <i>looked</i> Native; he was actually Sicilian.
King also spends a considerable amount of time discussing how we got where we are today from a legal perspective, including a review of three landmark U.S. Supreme Court decisions—Johnson v. McIntosh (1823), Cherokee v. Georgia (1831), and Worcester v. Georgia (1832)—in which the Court confirmed "the powers that the U.S. government had taken upon itself and spell[ed] out the legal arrangements that tribes were to be allowed."
Ultimately, King tries to be optimistic about the future, reviewing relations from 1985 forward in hopes of uncovering evidence that progress has been made. But "in terms of attitudes, in terms of dispossession and intolerance, nothing much has changed; 2012 feels remarkably similar to 1961 [or 1911, or 1864, or 1812, or 1763]," he concludes.
On the other hand, King admits that Native people have begun to experience moments of success within the legal systems of the U.S. and Canada. And he reminds us that Native cultures and adaptive and flexible, not to mention resilient. "If the last five hundred years are any indication," he concludes, "what the Native people of North America do with the future should be very curious indeed."