The Gathering Wind
Hurricane Sandy, the Sailing Ship Bounty, and a Courageous Rescue at Sea, Gregory A. Freeman, NAL.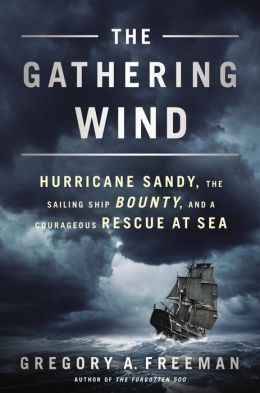 On October 25, 2012, the tall ship Bounty set sail from New London, Connecticut, en route to St. Petersburg, Florida. Never mind that the National Hurricane Center had issued warnings about an impending storm, and that the five-decade-old ship had malfunctioning bilge pumps. Captain Robin Walbridge, 63, would make the fateful and controversial decision to try to outrun what would become known as Superstorm Sandy, the largest hurricane ever recorded in the Atlantic.
In this page-turner of a disaster story, author Gregory A. Freeman recounts how the 180-foot-long wooden-hulled Bounty was built in 1960 for the 1962 movie Mutiny on the Bounty, which starred Marlon Brando. (It was a detailed reproduction of the original HMS Bounty, on which occurred a legendary mutiny against Captain William Bligh.) The replica ship would go on to become a film star in its own right, appearing in several other movies, most notably Pirates of the Caribbean: Dead Man's Chest, starring Johnny Depp, as well as the porn spin-off Pirates.
Although the Bounty was a fully functional sailing ship, it did not take on paying passengers or operate as a sailing school (as some tall ships do), because it did not meet Coast Guard requirements for safety and seaworthiness. "Because of its age, type of construction, and less than optimal maintenance over many years, the Bounty routinely took on more water than most ships, even most wooden-hulled tall sailing ships," writes Freeman, noting that "the leaking [was] so bad that the Bounty sank in port on three separate occasions."
More notable yet is that the Bounty spent more than a month in dry dock in September and October 2012, where it underwent extensive repairs, though perhaps not as extensive as warranted. Captain Walbridge elected to defer the repair of some defects (including some newly-discovered wood rot), which may have represented a significant structural threat.
Consider too that the tall ship community has seen its share of storm-related tragedies in recent decades. The 282-foot Fantome was lost in October 1988 during Hurricane Mitch, and the 90-foot Pride of Baltimore capsized and sank on May 14, 1986, when it was hit by a squall with winds up to ninety-two miles per hour. More recently, the 188-foot Concordia, a sail training vessel with a steel hull, sank off the coast of Brazil after it heeled over in rough seas and high winds. And the Walbridge-captained Bounty experienced its own near-disaster in 1998, when it took on water during a storm and the crew had to be rescued by a Coast Guard helicopter, two Navy vessels, a tugboat, and two cutters.
So it's perhaps no surprise that the Bounty keeled over to a 45-degree angle during the worst of Sandy, flinging the entire crew into the hurricane roiled waters off the coast of North Carolina—a part of the ocean referred to as the Graveyard of the Atlantic. Freeman vividly recounts the crew's harrowing ordeal, as well as the white-knuckle and truly heroic rescue operation executed by U.S. Coast Guard pilots and Search and Rescue personnel—men and women who risked their lives to bring back all but two Bounty crew members alive. (Captain Walbridge perished, as did deckhand Claudene Christian, a descendant of Fletcher Christian, who led the mutiny on HMS Bounty in 1789.)
The book concludes with a review of the Coast Guard hearings that convened in February 2013, which seem to serve as a strong indictment of Captain Walbridge's decision making. During his testimony, Bert Rogers, executive director of Tall Ships America (an organization that acts as the professional group for the country's tall sailing ships), was asked how many tall ships were on the East Coast at the time of Hurricane Sandy. About fifty, Rogers answered. How many besides Bounty left port? Zero.