The Enough Moment
Fighting to End Africa's Worst Human Rights Crimes, John Prendergast with Don Cheadle, Three Rivers Press.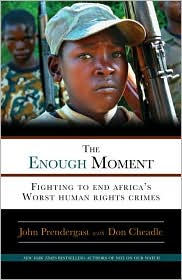 When it comes to Africa's human rights crimes, enough is enough. That's the message of "The Enough Moment," which aims to draw attention to three great scourges of our world—genocide, mass rape, and child conscription—and to illustrate how the activism of concerned citizens can help remedy these seemingly intractable problems. In other words, the authors take a push-pull approach to inspiring readers, highlighting the waves of violence that continue to wrack war-torn countries like Congo and Sudan, even as they recount the success stories of now peaceful countries like Sierra Leone, Liberia, and Angola.

Interspersed among the big-picture narratives are the highly personal stories of ordinary citizens, celebrities, and war survivors—characterized as citizen upstanders, famous upstanders, and front-line upstanders, respectively—who have committed themselves to addressing a particular issue. Many describe their enough moment, when they heard about a particular issue and decided to do something about it. Readers may be aware of the efforts of celebrities like Ben Affleck, Mariska Hargitay, and Angelina Jolie, as well as those of ordinary citizens like Leslie Thomas and Lisa Shannon. But it's the profiles of the largely-unrecognized survivor activists that are most moving (and probably most important), as these individuals remain on the ground, working to document and combat the same atrocities and human rights abuses they have suffered through and witnessed.
In the final chapter the authors provide a road map for getting involved and making a difference: contacting elected officials, hosting a movie screening, or organizing a teach-in, to name but a few. Recognizing that many readers may feel overwhelmed by the sheer breadth and depth of the problems described in the book, Cheadle and Prendergast remind us to resist the temptation to look away and do nothing. There will always be injustice, they conclude. But the degree to which injustice is thwarted and countered and reversed is up to us [and] millions of lives hang in the balance.