The Butcher
Anatomy of a Mafia Psychopath, Philip Carlo, William Morrow.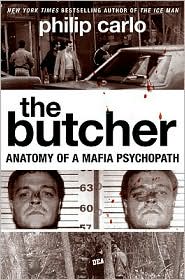 Best-selling author Philip Carlo ("The Night Stalker," "The Ice Man") has a knack for telling the dark, depraved stories of serial killers in an even-handed, matter-of-fact way. His latest page-turner focuses on the life and gruesome crimes of Tommy Karate Pitera, a mafia hit man so scary that fellow assassins were terrified of what he might do—to them and to others.

Beginning with Pitera's childhood in Gravesend, Brooklyn, Carlo recounts how a frail, insecure, and frequently-bullied Pitera embraced martial arts and grew into a remorseless killer, known for dismembering his victims and whisking the body parts away to secret burial grounds. Meanwhile, he seamlessly introduces Drug Enforcement Administration agent, Jim Hunt, who led the team of Group 33 agents who investigated Pitera and turned his confidants against him, leading to his arrest and conviction on murder charges in 1992.
To be sure, this book isn't for the faint-of-heart. The author's note warns that the included crime scene photos are particularly unsettling, and Carlos' descriptions of Pitera's murders are no less vivid and disturbing. But "The Butcher" is sure to captivate anyone who enjoys true-crime writing.

Related content:
The Ice Man's Greatest Hits