The Book of the Dead
Lives of the justly famous and the undeservedly obscure. John Lloyd and John Mitchinson, Crown.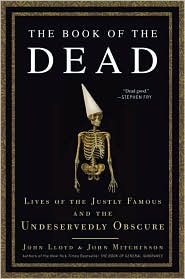 The criteria for inclusion in The Book of the Dead? Be interesting and be dead. Death is the easy part. After all, billions of people have lived — and died — over the past 100,000 years. Helpfully, coauthors John Lloyd and John Mitchinson — who previously collaborated on If Ignorance is Bliss, Why Aren't There More Happy People? — deliver just 68 pithy and provocative profiles, digging up embarrassing, fascinating, and downright weird stories about Leonardo da Vinci, Sigmund Freud, Isaac Newton, and other universally-recognized figures, as well as less remembered souls like Archibald Belaney and Tuesday Lobsang Rampa.
The ten chapters are organized by theme. For instance, There's Nothing like a Bad Start in Life explains how early traumas affected the likes of Hans Christian Andersen and Salvador Dali. And Man Cannot Live by Bread Alone describes the gastronomical adventures of John Harvey Kellogg, Henry Ford, and Howard Hughes. There's even a chapter devoted to people who kept pet monkeys, and another that explores the sexual proclivities of such men and women as Giacomo Casanova, H.G. Wells, Marie Bonaparte, and Cora Pearl.
As Lloyd point outs, death is the tie that binds us all, and there is much to be learned from those who have gone before us. Or at least you can draw some comfort from knowing your life is nowhere near as bad as it could be.