The Big Book of Autocorrect Fails
Hundreds of Hilarious Howlers!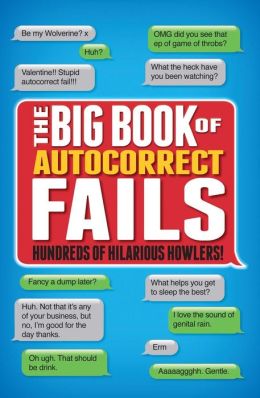 "The Big Book of Autocorrect Fails" is the latest in a line of humorous books devoted to the global phenomenon of autocorrect errors (Damn You, Autocorrect!, for example), not to mention the crazy things people—and parents—text.
Consider a handful of the gems from this book:
"Daddy Issues"
Daddy: Good news!
Daughter: Oh yeah? What's up?
Daddy: You were adopted.
Daughter: What? Is that some kind of sick joke? How would that be GOOD news, Dad? OMG, why are you texting me this? Holy moly, you MONSTER!!!!
Daddy: Not adopted.
Daddy: Accepted. To Brown. Sorry sweetie, didn't mean to startle you.
Daughter: You just ruined my makeup! God, I'm a total mess now. It's amazing I didn't grow up some serial killer.
Daddy: There's still time, sweetie.
"Penis Enlargement"
Him: So what happens if we remortgage?
Her: Well, you get some cash or whatever, but you will have that much more to pay off on the house, and your penis will be bigger.
Her: *payments.
"Slut Machine"
Message: Just drop by the main reception. They have a really obvious slut there that you can stick things in.
Response: Hahahaha!!
Message: There's a slot. The receptionist is not a slut, obvious or otherwise.
"God's zilla"
Message: But what do I do?
Response: Have faith, pray hard, trust in Godzilla.
Response: No, just God.
Message: Hahahaha. The laugh helped. Thank you.
The good news is: One can avoid little humiliations like these by simply turning off your smartphone's autocorrect feature, thereby preventing the software from substituting select words and letters in your text messages.
Or one can follow Tim Dedopulos' advice and read all the entries in his book, so as not to make the same mistakes as others. "And, for goodness' sake," he concludes, "be especially careful when using the words duck, aunt, election and tentacles."