The Beckham Experiment
How the World's Most Famous Athlete Tried to Conquer America, Grant Wahl, Crown.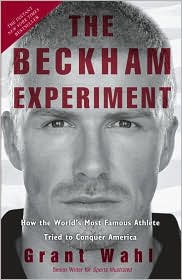 The operative word in the subtitle is tried, as for the most part, Beckham's attempt to transform soccer into a popular spectator sport in America has to be considered a failure. Sure, David Beckham's move from Europe to Major League Soccer's Los Angeles Galaxy has been successful from a business perspective, as the Galaxy have realized increased attendance and sponsorship revenue, and MLS has benefited from the added exposure, not to mention the sale of over 350,000 official Beckham Galaxy jerseys.
But in "The Beckham Experiment," Grant Wahl—senior writer for Sports Illustrated—makes it clear that from a soccer perspective, Beckham's addition hasn't made much difference. In fact, in Beckham's first two seasons with the Galaxy (he signed a five-year contract in 2007), the team won barely 40 percent of the games in which he played, and failed to earn a post-season berth. Meanwhile, television ratings remain miniscule and only one city—Seattle, not Los Angeles—has passionately embraced its MLS team.
What makes this book intriguing—for soccer devotees and casual fans alike—is how Wahl takes the reader behind the scenes to reveal the drama created by the arrival of Beckham and his entourage. Not surprisingly, Beckham clashes with Landon Donovan—the Galaxy's leading scorer and the biggest American soccer star—and he and his wife, Mrs. Victoria "Posh Spice" Beckham, have difficulty relating to teammates who earn salaries as low as $12,900 per year.
Of course, one could argue that this so-called experiment remains a work-in-progress, yet Beckham has already acknowledged that he plans to return to Europe in early 2010, leaving little time for the world's most famous sports celebrity to repair broken relationships and win a championship in Los Angeles. Perhaps diminished expectations will be good for both David and MLS. Instead of Bend It Like Beckham, the Galaxy will be content if he can simply Mend It Like Beckham.