The Axmann Conspiracy
The Nazi Plan for a Fourth Reich and How the U.S. Army Defeated It, Scott Andrew Selby, Berkley Caliber.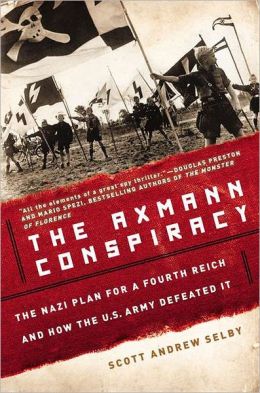 Scott Andrew Selby — co-author of Flawless: Inside the Largest Diamond Heist in History — knows how to spin a yarn. In his latest, he tells the story of Artur Axmann (1913-96), leader of the Hitler Youth and its female counterpart, who evaded capture at the end of World War II and attempted to organize a postwar Nazi underground movement. As one might expect, he failed, thanks in large part to U.S. Army Counter Intelligence Corps Officer Jack Hunter (1921-2009) and other American operatives.
In hindsight, it's clear that Axmann and his associates had little chance of reviving the Nazi Party (yes, the book's subtitle is a wild exaggeration), but at the time, the Allies couldn't take that chance. So while the Americans captured Axmann in December 1945, he was a free man within four years, not much prison time for a major Nazi figure responsible for militarizing young people during the war.
In effect, the book serves as a biography of Axmann, and should appeal to anyone with an interest in Nazi history.