That First Season
How Vince Lombardi Took the Worst Team in the NFL and Set It on the Path to Glory.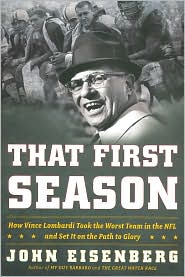 On November 2, 1958, the Green Bay Packers suffered a 56-0 loss to the Baltimore Colts, the worst loss in franchise history. In hindsight, it's probably a good thing that the team quit on easygoing head coach Ray "Scooter" McLean that day, as it started the organization on a path towards hiring the hyper-demanding—though largely unknown—Vince Lombardi in January 1959. Under Lombardi's direction, the Packers went on to win five NFL championships, as well as Super Bowls I and II, which explains why Green Bay is now sometimes referred to as Titletown USA.
In "That First Season," veteran sportswriter John Eisenberg tells the story of—you guessed it—Lombardi's first season with the Pack, an up-and-down-and-up-again campaign that saw Green Bay win its first three games, lose five in a row, and finish with a four game winning streak. It goes without saying that the book is geared towards Packers fans, but anyone with an interest in NFL history might also find themselves captivated.
Certainly, professional football has come a long way since the late 1950s, when teams played six exhibition games and just 12 regular season contests. (The Pack went 4-2 in the 1959 preseason, including matchups in San Francisco, Bangor, Winston-Salem, Minneapolis and Portland, Oregon.) Salaries were so modest back then that Lombardi paid cash bonuses out of his own pocket for big plays—ten dollars(!) for a sack or 30-yard run, for example—more than enough incentive to get his charges to play hard. And even a first-time head coach like Lombardi could gain virtually complete control over football operations. Heck, Vince went so far as to personally redesign the team's uniforms.
Historical curiosities aside, "That First Season" remains compelling throughout because of the way Eisenberg deftly recounts the early struggles of Packers legends like Bart Starr and Paul Hornung, both of whom, believe it or not, initially questioned whether they had a future in pro football.
While some may argue that Lombardi's success was a foregone conclusion (after all, he did inherit a roster with seven future Hall of Famers), "That First Season" illustrates how Lombardi got the most out of what he had to work with. Never mind the fact that after Lombardi retired as coach in 1968, the organization failed to win another Super Bowl until 1996-97.