Swansong 1945
A Collective Diary of the Last Days of the Third Reich, Walter Kempowski, W.W. Norton.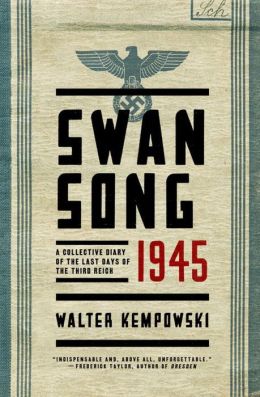 It's been seventy years since the end of World War II, but new books about the rise and fall of the Third Reich (and its key protagonists) keep coming. In the past few months we've seen the publication of "The Third Reich in History and Memory," by Richard J. Evans, as well as a new biography about Adolf Hitler's minister of propaganda, Joseph Goebbels, by Peter Longerich. Not to mention "KL: A History of the Nazi Concentration Camps," by Nikolaus Wachsmann, and "Ravensbrück: Life and Death in Hitler's Concentration Camp for Women," by Sarah Helm. But "Swansong 1945" is unique, insofar as it's a collection of first-person accounts generated on or about four fateful days in the spring of 1945: Hitler's fifty-sixth birthday on April 20; American and Soviet troops meeting at the Elbe on April 25; Hitler's suicide on April 30; and Germany's surrender on May 8.
As such, the reader sees the end of the war from the perspective of everyone from political leaders like Eisenhower, Churchill, Stalin, and Hitler; to individuals who were kissing-close to the Führer, like Eva Braun and Heinz Linge; to frontline German and American soldiers; to concentration camp victims; to frustrated German civilians, who respond cynically to the last bits of propaganda emanating from Goebbels on Hitler's' final birthday—and then recoil in horror as they learn the true extent of the terror of the Holocaust.
It should be noted that "Swansong 1945" was originally published in Germany in 2005, shortly before the death of Walter Kempowski (1929-2007), who collected the included letters and documents and has organized them for the reader. "Swansong" is part of a ten-volume series, with this—the final volume—being the first portion to be published in English, a development that will no doubt raise Kempowski's profile outside of Germany.
It's a remarkable book, as the more than one-thousand extracts actually manage to add additional color to what is well-covered historical ground. Read this work along with Ian Kershaw's The End, and one will not only understand the disintegration of the Nazi regime, but how it was perceived by those who lived through it.