Super Mario
How Nintendo Conquered America, Jeff Ryan, Portfolio Penguin.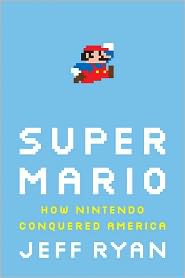 Failure is the mother of invention. At least that was the case for Nintendo, which in 1981 attempted to gain a toehold in the American gaming market with Radar Scope, a now forgotten Space Invaders knockoff. The Kyoto, Japan-based company had shipped three-thousand Radar Scope cabinets to New Jersey, but when Nintendo of America sold just a thousand units, the organization looked for a way to repurpose the remaining cabinets. An internal competition yielded a promising idea from staff artist Shigeru Miyamoto, who held an industrial design degree but had no game design experience. Miyamoto went on to create Donkey Kong, which put Nintendo on the map in the U.S. and launched the career of the world's most successful video-game designer.
In "Super Mario," lifelong gamer Jeff Ryan tells the story of how Nintendo rose to dominate the highly-competitive video-game market, providing a mostly chronological recap of when and why the company succeeded. Naturally, it's the various successes surrounding Mario ("a pudgy Italian plumber from Brooklyn," as Ryan puts it), that are frequently at the center of the narrative, hardly a surprise considering that Mario is Nintendo's most famous character, the star of more than two hundred games.
But it's the failures—those of Nintendo and other gaming and entertainment companies—that make the book accessible to the casual reader. For instance, Ryan recounts how Nintendo was sued by MCA Universal, which claimed that Donkey Kong infringed on its King Kong character. It was a move that cost Universal millions, as Nintendo went on to successfully defend the lawsuit by using Universal's own legal arguments against them, highlighting the fact that in 1975, in a case against the makers of King Kong, Universal had argued that King Kong was in the public domain.
Of particular note is the final section of the book, which examines how Nintendo reinvented itself with the Wii ("the gaming system for the non-gamer"), which has sold more than 84 million copies since 2006. Ryan wraps up by examining the current state of gaming, and taking an educated guess about what the future may hold for Nintendo. To be sure, "Super Mario" is best-suited for Nintendo fans and those interested in the history of video games, but business/history readers may also enjoy this fun book.