Bloody Sundays
Inside the Dazzling, Rough-and-Tumble World of the NFL, Mike Freeman, William Morrow.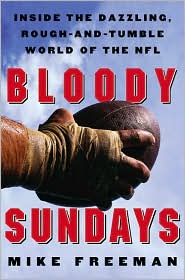 The National Football League (NFL) is undeniably the most successful professional sports league in North America, but if your only point of reference was "Bloody Sundays" you might have your doubts. In this exposé, New York Times sportswriter Mike Freeman tackles the dark side of the NFL—covering everything from the ravaged health of former players and coaches to the persistent problem of off-the-field domestic violence.
Considering the blanket coverage now provided by media outlets like ESPN, FOX and now the NFL's own network, hardcore fans are unlikely to learn anything new from "Bloody Sundays." Still, the book should be an eye-opener for the casual observer, who might not have considered issues such as: the role of the Wonderlic (an IQ-like test) in drafting college prospects; why no active player has publicly declared his homosexuality; and what compels some teams to install surveillance equipment in the locker room.
Oddly, Freeman intersperses warm-and-fuzzy sections between the salacious stories—his list of all-time greatest players and "99 Reasons Why Football is Better than Baseball," for instance. As a result, "Bloody Sundays" comes across as disingenuous—selling the dirt while all the while trying to avoid offending the "powers-that-be." Regardless, "Bloody Sundays" is a vivid reminder that the most compelling action in the NFL takes place outside the lines.