Slow Getting Up
A Story of NFL Survival from the Bottom of the Pile, Nate Jackson, Harper.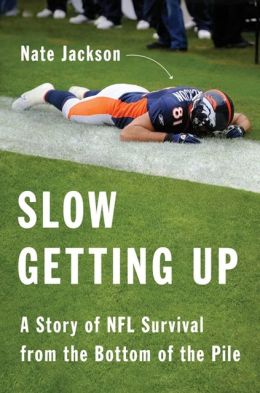 With the exception of diehard Denver Broncos fans, there probably aren't many people who remember Nate Jackson's NFL career. An undrafted free-agent out of Division III Menlo College, Jackson played in 41 games with the Broncos over the course of six years (2003-08), catching 27 passes and scoring two touchdowns. While the wide receiver-turned-tight end didn't compile impressive career stats, he did accumulate the material for "Slow Getting Up," a witty, revealing look at the life of a fringe NFL player.
To an outsider, being a professional football player seems like a dream job: there's the money, the adulation, the cheerleaders—what's not to like? Less obvious is the physical and emotional price to be paid for existing in the NFL long-term. Like almost all players, Jackson suffered his share of injuries, including dislocated shoulders, torn and pulled hamstring and groin muscles, and a dislocated pinkie, among many other aches and pains. And like everyone else, he played with the knowledge that he was expendable, and that each play could be his last.
Jackson is candid about everything he experienced in the NFL (as well as his one season with the Rhein Fire, in NFL Europe). The book is the football equivalent of Out of My League, by former major league baseball pitcher Dirk Hayhurst, though the writing style and humor is closer to that of Don't Put Me In, Coach, by former Ohio State basketball walk-on Mark Titus.
Jackson touches on everything from off-season parties and jersey chasers (that is, women who sleep with members of a certain sports team), to deadly serious issues like the drive-by shooting death of teammate Darrent Williams and the kickoff that resulted in the paralysis of Buffalo Bills player, Kevin Everett, which he witnessed firsthand. But it's his lighthearted and occasionally laugh-out-loud funny take on the relatively mundane aspects of NFL life (practices, meetings, injury rehabilitation, physical exams, etc.) that are the heart of the book, and the insight he provides should be eye-opening even to a knowledgeable NFL fan.
In the end, we learn that Jackson's NFL existence concluded with an unceremonious dismissal from the Eric Mangini-era Cleveland Browns, and that his professional football career came to an abrupt halt when he tore a hamstring while practicing with the UFL's Las Vegas Locos. Like many people who reach the highest levels of their profession, Jackson's NFL experience left him wanting more. "Six years as a Denver Bronco. Six more than most people can say," he notes. "Still feels like a failure, though."