Silence
Silence, Toby Kamps (editor), Yale University Press.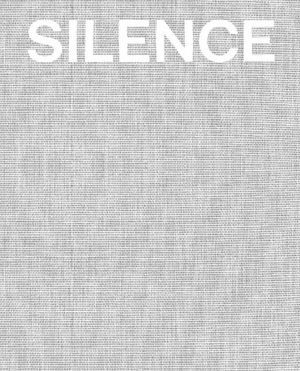 We live in a world filled with noise pollution, which explains why "Silence"—an examination of the ways in which twenty-nine artists have invoked silence—is so striking. Predictably, the book includes two versions John Cage's printed score for 4'33", arguably the most famous use of silence in art. Editor Toby Kamps, curator of modern and contemporary art at the Menil Collection, also analyzes Robert Rauschenberg's White Painting - Two Panel (part of a series of blank abstract images that inspired Cage), as well as Ad Reinhardt's Abstract Painting, a nearly monochrome (black) work save for the barely perceptible horizontal and vertical cross in the middle.
But perhaps most compelling is Techching Hsieh's One Year Performance 1978-79, which occurred when Hsieh locked himself in a wood cage equipped with a cot, light bulb, bucket and wash basin and spent an entire year without talking, reading, writing, watching television or listening to the radio. Also of note are the photos and discussion of Yves Klein's Symphonie Monoton – Silence, a full orchestra composition in which one note is held for twenty minutes followed by twenty minutes of silence, which Klein conducted in front of an imaginary orchestra in an opera house in West Germany in 1959.
Artist biographies and essays by Jenni Sorkin and Steve Seid round out the book, though it is Kamps' commentary (divided into subsections like Synesthetic Silence, Symbolic Silence, Surreal Silence and Sonic Silence) that best complements and explains the more than forty color and black-and-white images. Bravo to the author-editors for tackling this surprisingly complex and elusive subject.
Related content:
Boring Article (on boredom)