Sex on the Moon
The Amazing Story Behind the Most Audacious Heist in History, Ben Mezrich, Doubleday.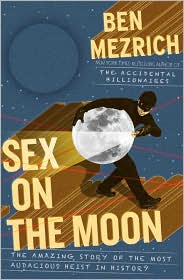 Thad Roberts promised his girlfriend the moon—and delivered. But fulfilling that promise earned him an eight-year federal prison sentence, his punishment for stealing a safe full of moon rocks collected by astronauts during the Apollo missions.
In "Sex on the Moon," Ben Mezrich (author of "The Accidental Billionaires") tells Roberts' wild story, which begins in Utah, where Thad was disowned by his Mormon fundamentalist parents after his expulsion from the Mormon Mission Training Center. (He admitted having had sex with his girlfriend.)
Pursuing his dream of becoming an astronaut, Roberts went on to spend two years developing himself into the type of individual NASA might be interested in, then—against all odds—landed a spot in the Johnson Space Center's prestigious Cooperative Program. With access to much of the Space Center's campus, Roberts formulated a plan for stealing the priceless rocks, which he executed with his girlfriend and another female NASA intern in tow.
But Roberts made the mistake of attempting to sell the rocks via an Internet classified, so it's not surprising that he was soon apprehended by the FBI. If it all sounds like a Hollywood movie, well, yes—it soon will be. For now, though, the book will more than suffice. It's compelling light summer reading.