100 Words Almost Everyone Mispronounces
The Editors of the American Heritage Dictionaries, Houghton Mifflin Harcourt.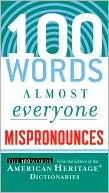 It's not just what you say. It's how you say it. The surest way to come across like an uneducated fool is to mispronounce a commonly used word—like "nuclear," for instance. Unfortunately, it's not always easy to determine the correct pronunciation of a word, because language is constantly evolving and many currently acceptable pronunciations evolved from yesterday's errors. That's where "100 Words Almost Everyone Mispronounces" comes in, providing the pronunciation, definition, and etymology of 100 oft-used words from A to "ye."
Some words seem undeserving of a place on the list, like "affluent" and "often." Others clearly deserve a spot, as with "err," "gyro," "cacophony," "Celtic," "comptroller," "primer," and "sherbet." And a few are infamous for providing snickering schoolboys with endless hours of entertainment, including "coccyx" and "Uranus."
"Kudos" to the editors for providing desperately needed advice on a "plethora" of pronunciation controversies.