Rez Life
An Indian's Journey Through Reservation Life, David Treuer, Atlantic Monthly Press.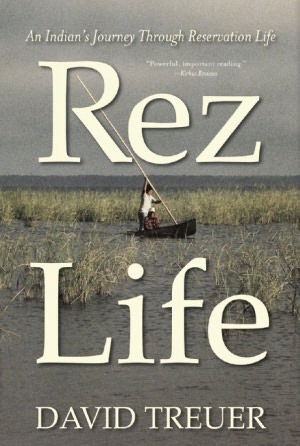 Most Americans associate Indian reservations with drug and alcohol abuse, high employment and violence. But as novelist David Treuer notes in "Rez Life," his first non-fiction book, "most people will go a lifetime without ever knowing an Indian or spending any time on an Indian reservation." Recognizing this, Treuer takes the reader on a tour of reservation life, one which covers everything from the history of reservations to deeply personal—and yes, oftentimes tragic—stories of life on the "Rez."
The author has the ideal background to explain the complicated issues that shape Indian life. The son of an Ojibwe judge and an Austrian Holocaust survivor, Treuer grew up on the Leech Lake Reservation in northern Minnesota, and now works as a professor of literature and creative writing at USC. It's no small feat to make subjects like Indian law accessible to the casual reader, but Treuer does an admirable job of describing how the policies and laws enacted by the government have had far-reaching effects on the members of the 564 federally-recognized tribes, not to mention the more than 300 reservations scattered across the United States.
Perhaps most impressive is how the author uses his storytelling skills as entree into the world of complex subjects like treaty rights and tribal law. For instance, a ticket issued by conservation officers from Minnesota's Red Lake Reservation is used as a jumping off point for discussing the often misunderstood issue of sovereignty. Similarly, Treuer relates how a tax bill on a mobile home helped give birth to tribal casinos.
However, the book is at its most compelling when the author weaves his own story (and that of his family and friends) into the narrative to explore common conceptions (and misconceptions) about reservations and the Indians who inhabit them. "Rez Life" is highly recommended for anyone interested in Native American history.
Related content:
Indian Summer: The quiet revival of native America