Pilgrim's Wilderness
A True Story of Faith and Madness on the Alaska Frontier, Tom Kizzia, Crown.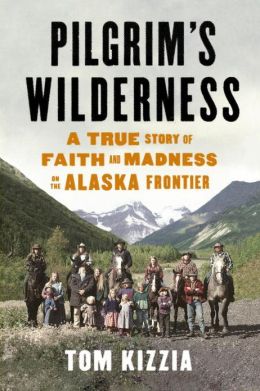 In 2002 Robert Allen Hale—aka Papa Pilgrim—moved his wife and fourteen children from New Mexico to a remote part of eastern Alaska, hoping to "live our old-time way and be left in peace," as he put it. But the homespun Christian family didn't find peace in Alaska, despite making their home ("Hillbilly Heaven") thirteen miles from the nearest settlement—the ghost town of McCarthy, found deep within the Wrangell-St. Elias National Park and Preserve, the largest national park in the United States.
Weeks after arriving, Papa Pilgrim bulldozed a road to the family homestead, initiating a protracted, tense confrontation with the National Park Service that seemed destined to escalate into another Ruby Ridge. And over time the family increasingly came into conflict with neighbors, causing outsiders to wonder about the inner workings of the Pilgrim clan and its effort to renounce modern life.
In "Pilgrim's Wilderness," by veteran Alaska journalist Tom Kizzia, the reader discovers that all was not well in the Pilgrim household. From a distance, the family came across as both presentable and intriguing—the kind of good-looking, hard-working, God-fearing folk that might be trotted out at Republican conventions. (The children were musically-talented to boot, hence the rave reviews earned by the family band—the Pilgrim Family Minstrels, which in 2004 released a CD titled Put My Name Down.) But up close, the family—once described "as aggressive as passive gets" (because the children made a habit of shadowing people without uttering a word)—was not what it seemed, thanks to the patriarch's ongoing physical and sexual abuse.
In the book we learn that Papa Pilgrim eventually got his comeuppance, pleading no contest to charges of rape, coercion, and incest. But the drama didn't end with his fourteen year prison sentence—long enough to put him away for the remainder of his life. It's only on the last page that we find out whether his offspring—ever-concerned about where one stands before God—forgive him for his sins. A heartbreaking and tragic true story, one likely destined for the Big Screen.