People of WalMart
State of Emergency, Adam Kipple, Andrew Kipple and Luke Wherry, Sourcebooks.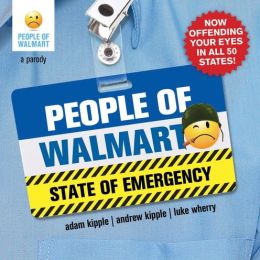 Luke Wherry and Adam & Andrew Kipple are back with another laugh-out-loud funny book filled with hundreds of pictures of "Walcreatures"—that is, inappropriately dressed/groomed WalMart patrons—men and women who are apparently not shy about wearing thongs and yoga pants to the store, so fellow shoppers can see their ass cracks, bottom biscuits, back boobs, and truly unfortunate tattoos. But see-thru clothing, cringe-worthy hairstyles, and men wearing ladies' underthings in public is merely the beginning. There are also more than a few pictures of shoppers and pets wearing diapers, as well as the obligatory photo of a child with a plastic bag on his head, and even one individual rocking a urine drainage bag with short pants.
This third of edition of the "People of WalMart" book series (containing photos submitted by WalMart shoppers via PeopleofWalmart.com) is organized by state, a response to "our fans fighting amongst themselves over who has seen the weirdest thing at WalMart or which region of the country wins the prize for most Walcreatures." Based on the photos in this book, I would say that Alaska has the scariest Walcreatures, despite the fact that the state has a mere eight Supercenters—among the lowest total in the country.
My favorite pictures include: The Arizona man who is seen filling gas cans at the Culligan water refill station; the Oregon woman who is holding—or is that wearing? —seven lizards ("because being the crazy cat lady is so 2008"); and the Tennessee shoppers who apparently attempted to bake cookies on the dashboard of their swelteringly hot car.
Yet my favorite photo/caption combination is of an obese woman wearing a backless outfit that the authors characterize as: "That awkward moment when your four back boobs come out and look like two hooves slipping on a ledge…" But honorable mention has to go to the bald Oklahoma gentleman wearing the "Leg Rests" [arrows pointing to his shoulders] T-shirt, his photo captioned with: "I guess that's a little more subtle than 'I want you to sit on my face.' Good luck with that, bro."
Perhaps it's just me, but Walcreatures do seem to be "letting their freak flags fly higher than ever," as the authors put it. No doubt book #4 is just around the corner.