Other People's Rejection Letters
Relationship Enders, Career Killers, and 150 Other Letters You'll Be Glad You Didn't Receive.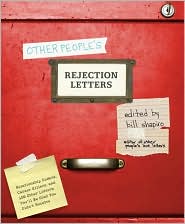 Two years ago, Bill Shapiro was all about love. Now he's all about rejection. Earlier this month, Clarkson Potter Publishing released "Other People's Rejection Letters," Shapiro's follow-up to "Other Peoples Love Letters," in which the former editor of Life magazine provided a voyeuristic look into the most passionate and impulsive thoughts of lovers and jilted lovers alike. "Rejection Letters" follows the same format; it's a random collection of written rejections (both business and personal), followed by a postscript that relates how 30 select recipients fared in the wake of being rebuffed.
To be sure, many of the creative- and business-oriented rejections are compelling. There's a letter from the Museum of Modern Art advising Andy Warhol of its decision not to accept Shoe, a drawing which the artist offered to the museum as a gift. There's a note from a television producer advising ABC of his decision not to return to Roseanne, preferring to vacation in the relative peace and quiet of Beirut. And my personal favorite, an unsigned form letter from the New Delta Review (Department of English, Louisiana State University), which advises the submitter that "[t]he work you sent us is quite terrible. Please forgive the form rejection, but it would take too much of my time to tell you exactly how terrible it was."
On the other hand, the personal rejection letters in the book are mostly unremarkable, rendered meaningless when taken out of context. However, I did chuckle at the signed Notice of Refusal of Entry into the Republic of South Africa, which bluntly advises the applicant that you are an undesirable person. Now that's personal.
While Shapiro attempts to put a positive spin on the collection by highlighting how the rejected are taking beautiful chances with their lives, the postscript demonstrates that things may or may not work out in the end. Consider the plight of Chad Hardy, excommunicated from the Church of Jesus Christ of Latter-day Saints for creating Men on a Mission, a commercially successful calendar featuring shirtless Mormons. According to Shapiro, the excommunication caused deep pain for [Chad] and his family, who believe he will not be with them in the afterlife.