One Mountain Thousand Summits
The Untold Story of Tragedy and True Heroism on K2, Freddie Wilkinson, New American Library.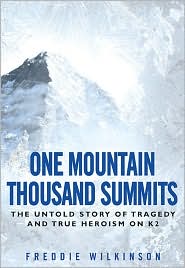 In early August 2008, eleven climbers perished on the snow- and ice-covered slopes of K2, the second-highest mountain on Earth and perhaps the most dangerous. Though the tragedy made headlines around the world, media accounts provided precious little insight in terms of what transpired. In "One Mountain Thousands Summits," professional climber and veteran outdoor writer Freddie Wilkinson revisits the ill-fated summit attempt (mounted by multiple international expeditions), telling the story through the eyes of a handful of Sherpa guides—Chhiring Dorje, Pasang Lama, Tsering Bhote, and Pemba Gyaljemen—who saved the lives of at least four climbers as the tragedy unfolded.

Yet "One Mountain Thousands Summits" is much more than the story of a single self-contained disaster. The book is ideal for those looking for an introduction to Himalayan mountaineering literature, as Wilkinson goes above and beyond to provide an overview of high-altitude climbing history. Among other things, he gives the reader a sense of the mental and physical challenges of climbing an eight-thousand meter peak (there are 14 in the world), conveying the debilitating effects of high-altitude, for example. More notably, he compares K2 to Mount Everest, deftly explaining why K2 is considered a far-greater climbing challenge (it is steeper, colder, and experiences more violent storms) than its taller, better-known associate.
Most importantly, the author ought to be commended for giving a voice to the Sherpas and climbers who perished in the tragedy, voices that arent often heard in the wake of expeditions that end in failure. "History is written by the victors," notes Wilkinson, explaining his motivation for providing another perspective. Likewise, the rescues that are [best] remembered are the ones that are successful.
Related content:
K2's Deadliest Day: The Sherpa Perspective
Fallen Giants