OK
The Improbable Story of America's Greatest Word, Allan Metcalf, Oxford University Press.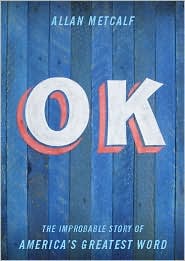 This biography—covering the history of an oft-overlooked word—is more than "just okay." In fact, it's pretty darn entertaining. Penned by Allan Metcalf—professor of English at MacMurray College and Executive Secretary of the American Dialect Society—"OK" covers everything from where the word came from, to why it caught on, to how it has evolved over time.
In a nutshell, "OK is an abbreviation, an acronym, technically an initialism—the name of each letter sounded—for all correct," writes Metcalf in the introduction, before noting that its inventor (the editor of the Boston Morning Post, Charles Gordon Greene) knew full well the initials were not correct at all. In fact, Greene seems to have been a serial initializer (that is, he frequently used abbreviations). Examples from his newspaper include: W.O.O.O.F.C. (with one of our finest citizens); R.T.B.S. (remains to be seen); N.G. (no go); and G.T. (gone to Texas). Most notably, he also trotted out O.W. (for all right) in 1838, but it failed to catch on.
OK, which first appeared as o. k. in the March 23, 1839, edition of the Post, probably should have been short-lived too. For one, "words generally come into being by evolution, not special creation," notes Metcalf. Second, OK is superfluous, in that all right has long communicated essentially the same thing.
Nevertheless, OK was able to establish itself, in part due to "[t]he fad for joking abbreviations in Boston newspapers of the late 1830s," writes Metcalf, and in part due to its starring role in Martin Van Buren's failed presidential campaign in 1840. As it happens, Van Buren appropriated OK (calling himself "Old Kinderhook")—the message being that Old Kinderhook was all correct. Unfortunately for Van Buren, his opponent, William Henry Harrison, had even more effective campaign slogans (including "Tippecanoe and Tyler Too"), and "the OK candidate lost," notes Metcalf wryly.
Of course, OK soon became entrenched thanks to the advent of the telegraph, and in the more than century and a half since has made further inroads into business, literature and culture. Among the highlights: The hit song "Oklahoma!" (from the 1943 Rodgers and Hammerstein musical of the same name), which ends with the line "We're only sayin' You're doin' fine, Oklahoma! … Oklahoma—O.K."; NASA's introduction of AOK in 1961; and the 1967 book "I'm OK, You're OK," which helped OK become a two-letter shorthand for tolerance.
Oddly, "I'm OK, You're OK" aside, there haven't been many notable OK quotes uttered. Our favorite at Failure comes courtesy of Hugh Grant: "I think that's the whole point of Bridget Jones. It's all about that it's okay to fail."
Related content:
Discouraging Words: Invented languages and their long history of failure