The Sky's the Limit
Passion And Property In Manhattan, Steven Gaines, Little Brown.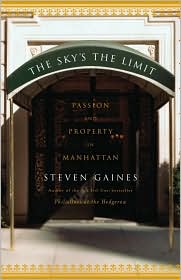 Manhattan lies squarely within U.S. borders, it really does. Only a lack of easy egress off this 22-square-mile island has fashioned one peculiar universe, so pressurized with people that it twists space itself into a black hole, distorted beyond all known dynamics. In "The Sky's the Limit: Passion and Property in Manhattan," Steven Gaines sheds light down this hole and onto one of today's hottest topics—real estate.
The entire country is mad for property (as investment, second home or additional revenue source), yet somehow New York's huddled masses have contorted it into a unique manifestation—vicious, primal and clandestine. Gaines has pried the roof off this world and ushers us into an open house few have ever chanced to encounter.
Gaines is a voyeur extraordinaire whose infiltration into the hidden lives of the upper crusty was last witnessed in "Philistines at the Hedgerow," his tidy exposé of the Hamptons set. Like many of the blue bloods in his books, Gaines lives in both playgrounds, so he knows of what and whom he writes. You might think that after "Philistines" they would see him coming, like Martin Bashir showing up for a post-trial interview at Neverland. But his targets seem downright eager to swing open their doors and welcome him into their well-upholstered duplexes and pristine offices, shoveling enough dirt to lay the foundation for a 40-story high-rise.
And it's all fascinating stuff. We encounter the megabrokers, celebrities, doormen and co-op board members whose main purpose in life is to reject any tenant who might sully their building's exclusive pedigree.
The book lurches back and forth from up-to-the-minute gossip on today's movers and shakers to historical narratives surrounding the genesis of the New York apartment building and its derivatives—the co-op and condo. There's even an oddball section on the Ansonia, whose ebullient façade belies a second-rate residence, an out-of-place divergence from the other chapters.
There are a few other paint chips behind the high-gloss enamel. Gaines begins with a somewhat affected style, as if writing a non-fiction "Bonfire of the Vanities." ("Truth be told, nothing seemed shocking anymore on Fifth Avenue. It was safe to say that there wasn't a coupon-clipping WASP dreadnought in sight"). He settles down though and dishes out the remaining morsels in straight servings. Gaines also provides little analysis of the interesting characters he has obviously researched so carefully. What exactly motivates "social arbiter" Betty Sherrill to banish seemingly respectable applicants from her Sutton Place Shangri-la? What compels piranhas like Michael Shvo to betray the very agent who gave him his break? Egos are on full display here, but Gaines fails to fully flesh them out. As a result, we are left with a mixed assortment of cartoon characters.
Then again, if you have to stop and ponder these trivialities, you might actually be one of those unfortunate souls who has to take out a mortgage, and we wouldn't want to get all tangled up with that now, would we? Failure is in the eye of the beholder and unless unbearable chutzpah and outlandish snobbery are hallmarks of human frailty, no one really seems to notice. If they won't let you into that Old World Fifth Avenue address because of your marital status, sexual preference or ethnicity, well then, do what all the rest of the tawdry, nouveau riche are forced to: overpay for something on Central Park West, where no one cares who you are and the views are spectacular. It's all slightly obscene, but it's their world, not yours, and frankly, they'd prefer you stop staring.
If Manhattan real estate and all its odd-duck peculiarities pique your interest, read this book, by all means, but read it now. Who's to say that even as you are glancing at this review, the real estate bubble's not bursting, everyone's coming to their senses, a 600' studio no longer sells for $700,000 and that neighborhood they call Clinton has returned to its rightful mantle as Hell's Kitchen. What is happening in today's real estate market is outrageous, but outrage is what New York is all about. Manhattanites would have it no other way.