New York City Museum of Complaint
Matthew Bakkom (editor), Municipal Collection, Steidl-Miles.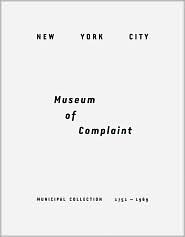 If you're a New Yorker and have ever wondered what your predecessors complained about, wonder no more. The book "New York City Museum of Complaint" features 132 representative letters written to the Mayor of New York between 1751 and 1969, all urging the city's leader to address one municipal problem or another. Most of the pre-1900 complaints concern the cleanliness of the streets and issues of public health. But many might just as easily be heard today. For instance, there are requests to: repair the pavement (late 1700s), add watchmen (1839), and to take action against excess fare charged by carriages (1864).

On the other hand, some of the gripes are period-specific. There's a missive from the summer of 1888 in which a citizen frets about dead horse stench. And there's a series of (ignorant) letters from 1937 criticizing Fiorella La Guardia for insulting Adolf Hitler. It's also apparent that itinerant street musicians have been a source of considerable controversy over the years, with noise pollution perhaps the single most common complaint voiced in the assembled dispatches.
Some individuals were obviously reaching to find something to gripe about, however. Consider the note from a parent urging that lady fingers and pretzels be made available at the cafeteria of the Central Park Zoo (1935), and an angry telegram expressing shock and alarm at the mayor's failure to support the New York Shakespeare Festival (1958).
There's one outlier, too, sent by typist Mary Elizabeth Cook in February 1949, a self-proclaimed attractive brunette from London, who asks if the mayor "would possibly help me find an American husband, one with a little money, and preferably blonde." How the mayor's office responded to the included letters is mostly unknown, but on Cook's letter someone wrote: "Tell her we can do nothing about her request as we can't act as matrimonial agents."
On its face, "New York City Museum of Complaint" would seem to have very limited appeal. But people do like to complain, so perhaps they'll take pleasure in reading complaints, too.