Why Smart Companies Do Dumb Things
by Calvin L. Hodock, Prometheus.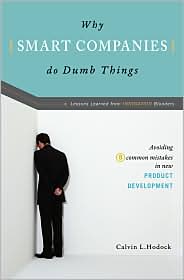 It's not easy to successfully launch a new consumer product. Just ask any of the big corporations featured in "Why Smart Companies Do Dumb Things": Coke (New Coke); Pepsi (Crystal Pepsi); Campbell's (Intelligent Quisine); Procter & Gamble (Olestra) and McNeil (Benecol)—to name just a few.
Author Calvin Hodock—a professor of marketing at Berkeley College—contends that the odds of success could be greatly improved, if only companies would learn from their mistakes. Using case histories of failed products like the Pontiac Aztek and Excedrin Quick Tabs, Hodock identifies eight common misjudgments—including "defective marketing research," "competitive delusion" and "marketing dishonesty"—that often doom new product development. After analyzing each individual case, he goes on to review the lessons learned and offers advice for those considering similar endeavors.
Predictably, Hodock trots out numerous well-worn axioms like "stick to your core competency" and "match performance with expectations." But he also takes leading business schools to task for failing to produce graduates with the humility and maturity to cope with real-world problems. In particular, he criticizes biz schools for the lack of attention devoted to ethics and other "soft" skills. Hodock even suggests that prospective MBA students be required to take an ethics exam in addition to the Graduate Management Admission Test (GMAT), and that "[t]he ethics score should carry equal weight with the GMAT score in screening candidates."
Of course, it doesn't take a Harvard MBA to recognize that America doesn't need green and purple ketchup to go with sky-blue—excuse me, Kool Blue—french fries. Missteps like those (courtesy of Heinz) remind us that there's simply no substitute for common sense.