Let's Bring Back
An Encyclopedia of Forgotten-Yet-Delightful, Chic, Useful, Curious, and Otherwise Commendable Things from Times Gone By.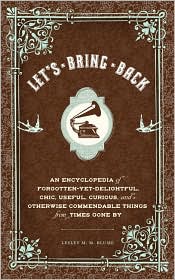 Simply put, "Let's Bring Back" is an A to Z encyclopedia of nostalgia, celebrating hundreds of largely forgotten words, works, objects, and personas, all of which deserve—in the mind of the author—to be reintroduced into society. Never mind that many of the items in question have long since outlived their usefulness (answering services and typewriters, to name a few).
Yet the overwhelming majority of the author's choices would make the world a better place, or at least help us rediscover what we've left behind. Who can argue with being in favor of better table manners, longer attention spans, and more leisure time? Or handwritten thank-you notes, good penmanship, and door-holding?
On the other hand, Blume makes some curious choices, like fake vomit and other gag items of that tenor, as well as good Crackerjack prizes and pink suits for men. (These may or may not have been included solely in the spirit of sheer absurdity.) Other inclusions stand little chance of making a comeback—newspapers and Little Red Schoolhouses come to mind. And some things you may not have missed at all (honeybees and red cabooses, for instance).
The good news is that several pastimes amongst Blume's compendium have made a comeback, including at-home doctor visits, manicures for men, and naps. If nothing else, "Let's Bring Back" reminds the reader of the value of honoring and appreciating history. "All legacies—no matter how grand or modest—require an appreciative audience," concludes the author. "Even the most astounding legacies can get lost in the dust kicked up by progress if they are not documented and discussed in retrospect."