The First 90 Days
Critical Success Strategies for New Leaders at All Levels, Michael Watkins, Harvard Business School Press.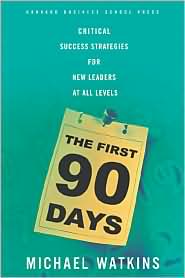 "The First 90 Days" is a cut above other run-of-the-mill "how to succeed in business" books, mostly because it offers concrete strategies on how to handle a new leadership position (rather than feel-good observations about what it takes to be a leader). Written by Harvard Business School professor Michael Watkins (a self-described "leadership transition expert") this book provides a road map for negotiating the challenges faced by anyone accepting a leadership role—launching a startup or taking on a new management job, for example. Assuming the reader has already secured a leadership position, Watkins concentrates on illustrating how to maximize the opportunity and minimize the risk of professional failure.
As the title implies, the author considers the decisions made and actions taken (or not taken) in the first three months of a new endeavor critical to achieving long-term success. Watkins provides actionable advice on how to quickly diagnose your individual situation, build credibility, manage expectations and secure the early victories that reduce resistance to future orders. The overriding idea is to reduce the amount of time it takes to reach what he describes as the breakeven point—"the point at which your organization needs you as much as you need the job." Along the way Watkins addresses several mistakes commonly made by new leaders, as well as how to assess the potential professional vulnerabilities that could conceivably threaten your personal success.
"The First 90 Days" isn't light reading and the advice offered is easier read than done. But the book has the potential to be a helpful resource—especially if you're expecting to face the unenviable but all-too-common situation known to new leaders: sink or swim.