K2
Life and Death on the World's Most Dangerous Mountain, Ed Viesturs with David Roberts, Broadway Books.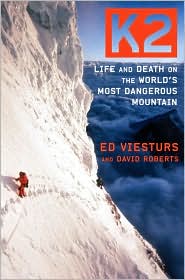 In 1995, Ed Viesturs became the first American to climb all fourteen 8,000-meter peaks, and with thirty 8,000-plus expeditions to his credit, he's as qualified as anyone to address the relative challenges of the tallest mountains. So when the typically understated fifty-something dubs K2 "the world's most dangerous mountain," one can be sure it's more than just marketing hype.
Indeed, K2—at 28,251 feet the second-highest mountain in the world—is considerably more dangerous than the taller and more famous Mount Everest (though not as deadly as Annapurna, at least not in terms of the ratio of those who summit compared to those who die trying).
In "K2," Viesturs recounts the history of man's attempts to conquer K2, focusing on the expeditions mounted in 1938, 1939, 1953, 1954, 1996, and 2008 (the latter a year in which 11 climbers perished high on the Abruzzi Ridge during a single 36-hour period, the worst single-event tragedy in the mountain's history).
Viesturs also examines his own experiences on K2, "the scene of what I still regard as the greatest mistake I ever made as a mountaineer," he writes. (He climbed into a gathering storm and narrowly escaped being killed in an avalanche, saving his own life and that of Scott Fischer by stopping their fall with his ice ax.) Today he regards the incident as a vital lesson learned. Don't ever do that again, if you want to stay alive. Listen to your instincts, and follow them, he emphasizes.
Viesturs goes on to spend the majority of the book considering and reconsidering the exploits of others, attempting to discern lessons from those who have gone before, something he apparently tries to do before making an attempt on any peak. Fortunately, he avoids second-guessing his subjects, gleaning "lessons learned" without coming across as a Monday morning mountaineer.
While fellow climbers might have the most to gain from reading this book, it's equally accessible to the armchair traveler, who will no doubt be amazed by the challenges presented by an 8,000-meter peak like K2, not to mention the cost—sometimes paid with life and limb—of getting to the top.
Related content:
K2s Deadliest Day: The Sherpa Perspective
Climb Every Mountain