I Hate Everything
By Matthew DiBenedetti, Adams Media.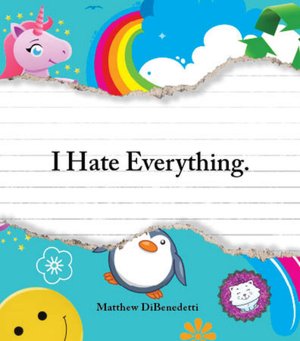 Matthew DiBenedetti is full of hate, which he blames on having worked in advertising for over 20 years. Still, his is a matter-of-fact (as opposed to evil) kind of hate, mostly directed against the little things that irk a man now and then. For instance, he hates "the water that magically appears in a mustard bottle, finding lipstick on my diner coffee mug, and finding an empty ice-cube tray."

Some of his dislikes—expressed in the form of pithy one-liners—are marginally more significant. Among those that resonated with me: "I hate that cell phone screens have replaced lighters at concerts, I hate that printer ink cartridges cost more than my printer, and I hate that spell checker isn't always write."
However, I don't entirely buy the notion that DiBenedetti embraced pessimism as a result of exposure to advertising. I prefer to think his hate is rooted in the fact that he lives in Trenton, New Jersey.
Related content: I Hate Everyone