Healthy Highways
The Road Guide to Healthy Eating, Nikki and David Goldbeck, Ceres Press.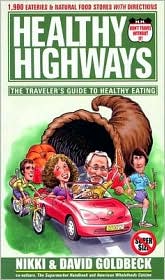 As summer travel season heats up, millions of Americans will take to the nation's highways en route to their respective vacation destinations. Along the way, most will struggle to answer the perennial question, "Where should we eat?" For many the most visible choices will be the most unsatisfying—the usual assortment of greasy fast-food outlets and gas station convenience stores. Yet unbeknownst to those just passing through, more fulfilling options are—according to authors Nikki and David Goldbeck—often right around the corner, if one knows where to look.
The Goldbeck's are longtime food educators and co-editors of "Healthy Highways: The Traveler's Guide To Healthy Eating" (Ceres Press), which lists 1,900 health-oriented food establishments in all 50 states. Compiled with the help of 22 volunteers known as "Healthy Highway Tripsters," the book includes organic, vegetarian and ethnic eateries, as well as gourmet grocery stores, natural food outlets and community co-ops. In short, there's something for everyone who's health conscious or still hasn't recovered from taking in Morgan Spurlock's documentary/fast-food exposé, Super Size Me.
Since getting there is half the battle, "Healthy Highways" includes maps that provide an overview of the options in each state, plus directions to individual eating places from the nearest highway or main road. Each listing also provides contact information plus hours of operation and other pertinent facts. According to the Goldbeck's there's an added benefit to skipping the fast-food drive-thru and venturing off the beaten path, namely, "an opportunity to see parts of the country that often whiz by."
So if you're frequently uncertain about where to stop for food "Healthy Highways" may make a valuable addition to your glove compartment. Another option? Continue blindly following Yogi Berra's infamous directional advice: "When you come to a fork in the road . . . take it!"