God Made Me Do It
True Stories of the Worst Advice the Lord Has Ever Given His Followers, Marc Hartzman, Sourcebooks.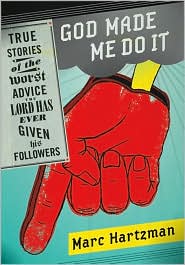 God told me to direct traffic topless. God told me to toilet paper a police station. God told me to perform surgery on myself. God told me not to pay income taxes. These are just a handful of the absurd, hilarious things people have claimed God asked them to do — their stories chronicled in this quirky paperback by New York advertising copywriter Marc Hartzman, who quips that God commanded him to write this book, "not any one of the other several billion people milling about this planet."

In some cases, it's fortuitous that the bearer of God's message was unable to follow through on His alleged plan, as was the case with religious broadcaster Pat Robertson, who in 1988 claimed that the Lord told him to run for President of the United States, prompting Robertson to say, "I assure you that I am going to be the next President." On other occasions, the receiver may simply have misheard the message, as with the leader of a California Pentecostal group who re-located his entire congregation to Missouri in 1969 after God allegedly told him that Los Angeles would cease to exist within 15 years.
With all the horrendous acts and poor judgment exhibited by the messengers highlighted in Hartzman's vignettes, it's not surprising that the author takes a moment to remind the reader that God's words — or at least the idea of His words — has helped and inspired many. Nevertheless, as these pages sometimes show, the world would be a better place if the Lord kept His words to Himself.