Foolish Words
The Most Stupid Words Ever Spoken, Laura Ward, Sterling Publishing.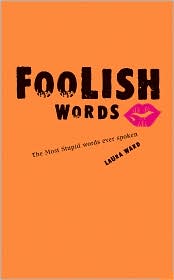 As its subtitle suggests, "Foolish Words" is a collection of some of the most foolhardy utterances ever heard. There's a chapter devoted to bad predictions ("Everything that can be invented has been invented") ; a section on misquotes and misprints ("Mai Thai Finn is one of the students in the photo. We incorrectly listed her as one of the items on the menu"); and a parade of inane quotes from athletes and sportscasters ("We must have had 99 percent of the possession. It's the other three percent that cost us.")

Naturally, there's also a chapter devoted to actors and musicians, plus more than a few pages covering the verbal blunders of national politicians. Tellingly, George W. Bush's quotes aren't lumped in with the likes of Dan Quayle, the Clinton's, and those of his father; Dubya warrants an entire chapter all his own. For my money, though, it's the last grouping — covering customer service and product labels — that generates the most laughs: "Do not attempt to stop the [chain saw] blade with your hand," is a prime example.
"Foolish Words" is ideal for gift-giving, as is the companion book "Perfect Put-Downs: A Collection of Acid Wit," also by Laura Ward.