Final Voyage
A Story of Arctic Disaster and One Fateful Whaling Season, Peter Nichols, Putnam.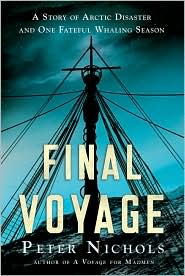 In the early summer of 1871, a fleet of 40 whaling vessels carrying 1,219 men, women and children, ventured into the Arctic in pursuit of bowhead whales. Trapped by ice at the end of the season, the whaleboat captains collectively decided to abandon 32 of the ships — including the finely appointed four-year-old Concordia, the most expensive whaling vessel ever built for the New Bedford (Massachusetts) fishery — and all 1,200-plus individuals escaped via the seven vessels that managed to elude the grasp of the ice. Though there was no loss of life, the replacement value of the forsaken ships exceeded $3 million (the equivalent of hundreds of millions of dollars today), and the financial losses had a catastrophic effect on the whale oil industry.
In "Final Voyage," Peter Nichols tells the story of this maritime disaster, placing it in historical context by relating the highs and lows experienced by prominent whaling merchants like George and Matthew Howland. In fact, the experience of the Howland brothers mirrored that of the industry as a whole; the duo became unimaginably rich when the demand for whale oil reached its peak in the mid-nineteenth century, yet they were staggered by the loss of three uninsured ships in 1871, as well as four others in a similar calamity in 1876.
The irony is that in that fateful summer of '71 the fleet's captains may have abandoned their vessels too soon. One man — a boatsteerer — elected to stay behind and winter in one of the ships, becoming the sole witness to what later unfolded. Two weeks after the evacuees fled south, a northeasterly gale pushed out to sea most of the ice, freeing the now unmanned ships, almost all of which were lost or irreparably damaged — smashed against each other and the remaining ice.
While Nichols does a more than admirable job of telling the tale, the reader is likely to find himself wishing the author spent more time on the details of the disaster itself — and less on the historical background. In other words, expect more maritime history than maritime adventure.